Your dirty walkway may lead to accidental falls or injuries.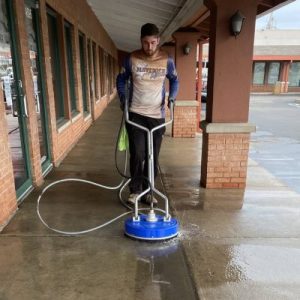 Both your home's interior and exterior should be safe for you, your family, and any visitors you may have. That's why you prevent your home from getting too cluttered, don't leave trash out on your lawn, and take other measures to make sure there aren't safety hazards that can affect people on your St. Louis, Missouri property. However, there's one area that many homeowners neglect when it comes to taking care of their homes: the walkway. Though you may not give as much thought and attention to walkway cleaning as you do to maintaining other areas on your property, walkway cleaning is just as important as cleaning any other surface.
Your walkway should be a safe place for people to enter your home, but contaminants like built-up dirt, algae, and grime can create a tripping hazard. Tripping and landing on the hard surface of your walkway can lead to injury, and you don't want to end up liable for someone getting hurt on your property. To help prevent these injuries, you should look into how walkway cleaning helps keep your walkway safe as well as aesthetically pleasing.
Whether your walkway is cleaned with softwashing or pressure washing techniques depends on your walkway and circumstances. Here at Maverick SoftWash, we provide both of these services but only use the method that is most appropriate for the situation. You can depend on us to preserve your walkway and other outdoor surfaces we clean so that they get the quality cleaning or washing service they need without getting damaged. If your walkway is too dirty and you want to make sure it gets cleaned right, call us.