Enjoy a nice, clean patio when you hire us for a patio cleaning job.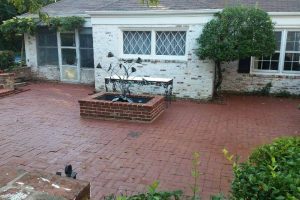 Your St. Louis, Missouri patio can be a great place to unwind and relax after a long day of work or running errands, but if your patio is filled with insect nests, dirt, and other contaminants, you may find yourself avoiding it altogether. A nice, clean patio is a great feature for any home, so if your patio is too dirty to enjoy, call us for a patio cleaning job.
Exterior home surfaces will naturally accumulate many different types of contaminants, from mold and mildew to dirt and grime. There's only so much you can do with a broom or water hose to sweep or wash these contaminants away, so if you want a quality patio cleaning job, you're going to want to turn to the right professionals for the job.
We here at Maverick SoftWash use a softwashing technique to clean your patio and many other outdoor surfaces. Unlike pressure washing, softwashing is gentle on delicate surfaces, such as your patio. Dirt, grime, and mold are no match for the special cleaning solution used in the softwashing method, and the lack of intense pressure means you don't have to worry about our cleaning service damaging your patio. With our services, you can trust that your patio is getting the proper attention and care it needs with a quality patio cleaning job.
Sit back and relax on a freshly cleaned patio as soon as possible by reaching out to our team. Our softwashing experts are sure to leave your patio looking the best it can possibly look, so if you're tired of insect nests and grime preventing you from enjoying your patio, call us today.