Your beautiful, stamped concrete deserves a cleaning surface that will preserve it.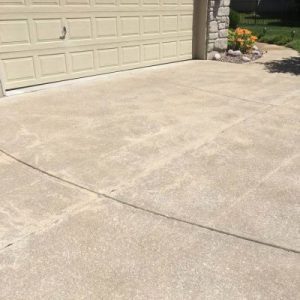 Stamped concrete is a beautiful outdoor surface that can add both curb appeal and property value to your St. Louis, Missouri home. Stamped concrete walkways, patios, and more create a more elevated appearance that people will notice, so long as it's clean. Excessive dirt and contaminant buildup can diminish the concrete's appearance and can even wear it down over time. Stamped concrete cleaning is the perfect service for your home's stamped concrete, as it will leave it looking beautiful and in better condition.
Stamped concrete cleaning, like other outdoor surface cleaning services, is designed to help preserve both the appearance and longevity of your concrete. Contaminant buildup can damage your stamped concrete the longer it's permitted to linger, so you don't want to put off professional cleaning services.
Our stamped concrete cleaning job will effectively eliminate dirt, grime, and algae on your stamped concrete so you can show off your beautiful surface. Plus, we take special care to make sure your concrete doesn't get damaged. It's frustrating to deal with expensive damages or issues that come about from poor services, but you don't have to worry about us negatively affecting your outdoor surfaces, as we have years of experience and expertise to back up the work we do.
If you want to make sure your stamped concrete is properly cleaned and not damaged, give us a call here at Maverick SoftWash. Our services are sure to help you fall in love with your stamped concrete walkway or other surface, so don't hesitate to reach out today.