We take your exterior commercial cleaning seriously.
Appearances are everything in business, and that means neglecting your commercial building's appearance would be a mistake. Instead of having a building or other surfaces that are marred by dirt and stains, invest in exterior commercial cleaning and renew your building's appearance in an instant.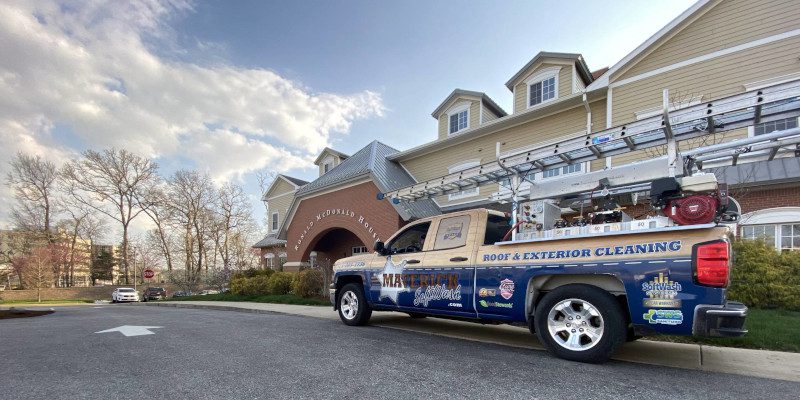 At Maverick SoftWash, we are proud to offer exterior commercial cleaning to businesses of all sizes in St. Louis, Missouri. Whether your property has problems with dirt, grime, algae, mold, mildew, or insect nests and webs, we will make sure to eliminate all contaminants to restore your surfaces to their prior condition.
Some of the surfaces we can tackle include your commercial roof, windows, parking lot, or even the building itself. And since some of these surfaces are more delicate than others, we make sure to select the appropriate cleaning method for each. For instance, roofs, windows, and buildings are always soft washed with minimal pressure to avoid damage, while your parking lot may be soft washed or pressure washed depending on the severity of the buildup and other factors.
In cases where your exterior surfaces suffer from stain-causing microorganisms like mold, algae, mildew, or fungi, our soft washing solutions will kill them and prevent their regrowth, producing results that last 4 to 6 times longer than the results achieved with pressure washing.
If you need exterior commercial cleaning, you can rely on our team to handle the job with the utmost care and professionalism. We want to help you do what is best for your business, so contact us today for a quote on exterior commercial cleaning.
Similar Services We Offer: